Benefits of Learning with ExcelCEO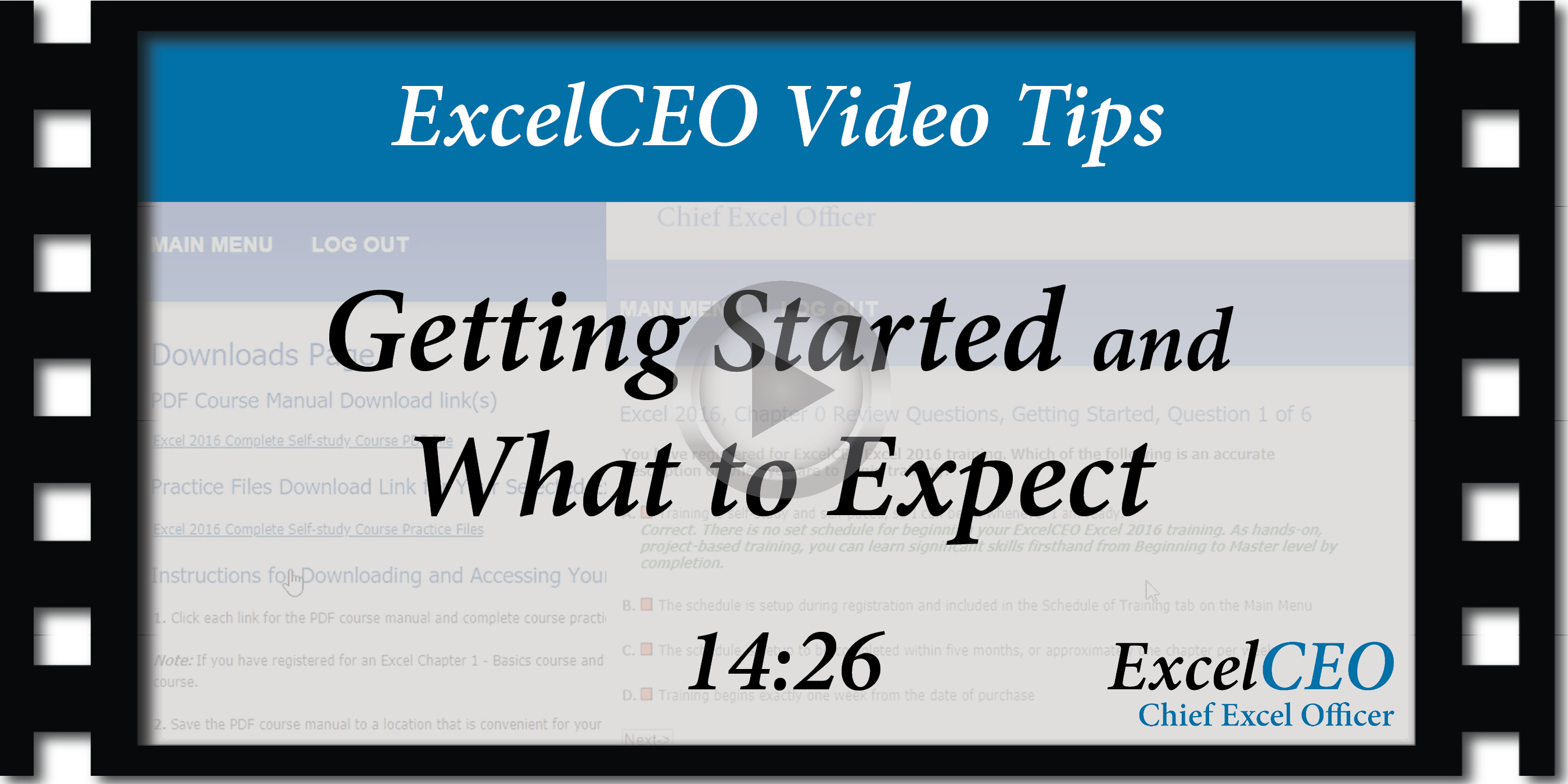 What is Included with ExcelCEO Training Registration
Once you register for an ExcelCEO complete self-study course, you would gain access to the following:
(1) ExcelCEO student profile** at ExcelCEO.com using the email address you register with, and the temporary password assigned (once you are registered and logged in, you would be able to change this at any time)
  ** Only one student profile per registration. Training materials should not be shared with anyone who has not registered for the specific ExcelCEO training.
  If you have more team members who want to take ExcelCEO training, ask about group discounts!
(1) Excel or Access and SQL complete self-study course PDF manual (download) containing easy-to-follow, step-by-step instruction text and hundreds of screenshot aides throughout.
Complete course practice files and/or database files download for hands-on training (download)
Review Questions checkpoints within each of the 18 chapters of Excel (15 chapters of Access and SQL) training to provide additional training and exposure to the Office program user interface, including the Office Ribbon, menu option placement, and more. These sections are not graded, and provide tip explanations for each answer selected.
Chapter exams (one per chapter) that are designed to test the accuracy with which you have completed the chapter projects and understood the training provided. Chapter exams are graded, and explanations are not provided along the way. Chapter exams must be completed with a minimum of 70% to move on to the next chapter. You can review missed questions once you pass the specific exam
Optional Supervisor profile for tracking progress
Certificates tracking for CPE credit - this course qualifies for up to 40 hours of NASBA-certified CPE/QAS credit, awarded by chapter. If taking the course for CPE credit, NASBA policy is that training you plan to submit for CPE credit must be completed within one year from the date of purchase. ExcelCEO does not place time restrictions on access to ExcelCEO students profiles for designated, registered ExcelCEO students, so whether you are taking the course for personal development, or even if you take the course for CPE credit, and the one year expires, or if you graduate from the training, you would still have access to your ExcelCEO student profile as long as you remained a registered ExcelCEO student.
Upon graduation, you would qualify to be listed in the Graduate Verification at ExcelCEO.com as evidence of your Excel and/or Reporting and Analysis mastery! You would also receive a high-quality, printed certificate to frame for your office, desk, or wall.
Where These Skills Apply
Once you choose the complete self-study course for your training and successfully Submit your registration, the order confirmation would appear and provide you with your password and instructions for beginning. You can begin right away, or whenever you are ready! Want to register your team too? Let us know and we can set that up! See some job titles below and which training sections would be applicable to those jobs:
| Job Category | Section | Description |
| --- | --- | --- |
| Administrative Assistant, Accounting Clerk, Office Manager, Bookkeeper, etc. | Beginning | This section teaches the things every office person needs to know – Excel basics, formatting, working with graphics and objects, flowcharts, sorting, filtering, subtotals, and printing. |
| Beginning Accounting or Beginning Financial Analyst | Intermediate | This section focuses on writing formulas. Writing formulas and using functions is the "lost art" of Excel, and knowing how to write serious formulas sets the experienced users apart from the novices. |
| Experienced Accountant, Senior Financial Analyst, or Consultant | Advanced | This section teaches a very advanced skill set, including PivotTables, data analysis, graphs and charts, macros, and working with the web. |
| Excel CEO (Chief Excel Officer) | Master | This section requires the student to complete a comprehensive project on their own. Upon completion of the project and the final exam, the student will have mastered the skills taught in the course. |
---
Your step-by-step process toward learning about Pivot Tables, Analysis Tools and Working with the Web opened up a lot of new possiblites on how to expand my usage of Excel in ways I really hadn't begun to comprehend.





I took a two day procedure and reduced it to 7 MINUTES using just the knowledge I gained in this course.








This Excel course is in a league of its own!








Jim's simple step-by-step style takes ANYONE to a Master's level in very little time.








I'm now the Excel GURU of any company I walk in to.








You just saved me 3 days of work by showing me how to use ONE FUNCTION. Too Cool!








I thought I knew Excel but after watching your free training video, I knew I had lots to learn. YOUR COURSE TOTALLY ROCKS!







The course more than paid for itself just after reading the tips and tricks in CHAPTER 1!








I learned things in this course that NO ONE in my office knows. Now everyone comes to ME for Excel advice.